Here are some of the Christmas cards starring Frankie the Rocket Dog. And what's the point of having a dog if you can't make fun of him?
This is from 1997. It was photographed using a process known as "film." It is unretouched which means that the poor little pup actually had to wear the antlers.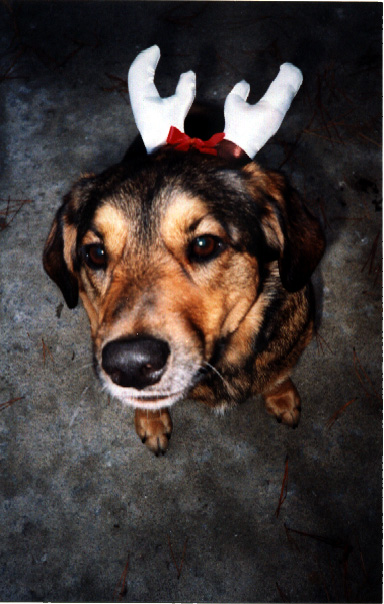 From 1998:
From 1999: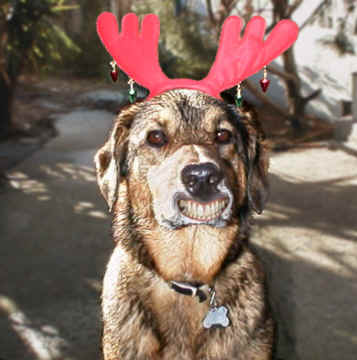 This was going to be the card for 2000 but nobody cares about the little Cuban wheezer anymore:
So this was the official card for 2000:
Makes you proud to be an American, don't it? Geez, we sure miss the hillbilly flea circus. But on to 2001: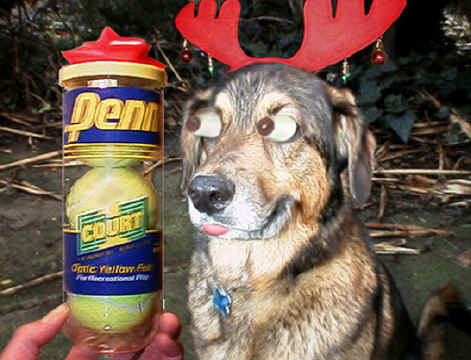 Don't ask who the tongue belongs to.
Decided to go retro for 2002:
This is actually from a Polaroid of Frankie getting his first bath. If you look closely you can see he's all wet.
Now here's something that's really amazing: I was surfing through some Middle Eastern websites looking for Christmas art when I found a photo of famous Baghdad artist Ali Mak-beal actually creating a huge holiday greeting card.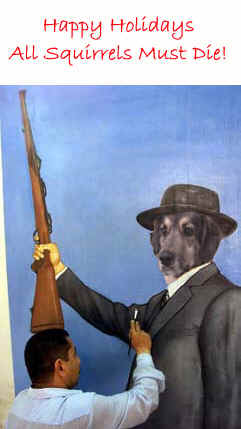 I TOLD you it was amazing.
For 2003: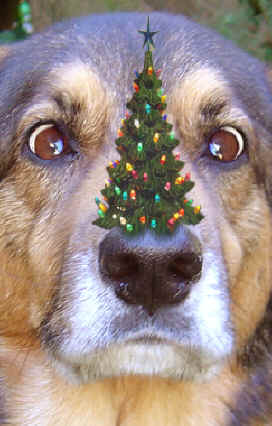 And this is the alternate card for 2003. I took this shot a split second before Frankie hocked a goober on the lens.
For 2004:
I tried to composite the hat in Photoshop but it just wasn't convincing so Frankie actually had to wear it.
As you can see from the following outtakes, he took it pretty well.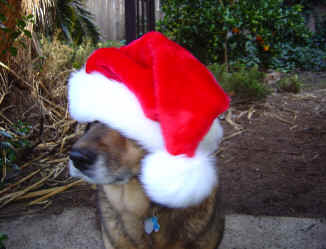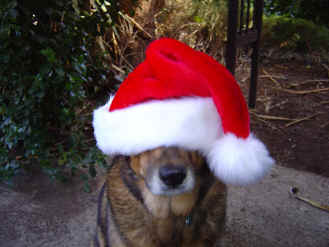 And here's this year's alternate card:
For 2005: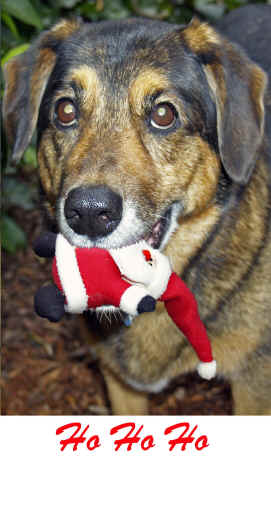 And for the first time, our alternate card is not for young wheezers because I used a naughty word (However, I guess it's okay to show Santa being eaten by a dog).
Click on Show Me if you're over 18 and have relatively low self-esteem.
For 2006:
Unfortunately, Frankie was arrested for solicitation. How was he supposed to know that bitch was a police dog?
And here's this year's alternate card:
Not bad for an eleven-year-old dog.
For 2007:
Okay, so I'm officially running out of ideas. Luckily, Frankie had a pretty good one:
It ain't good when your dog is smarter than you are.
Frankie 1995 - 2008
2/14/2008 Last Friday, Frankie started getting sick and couldn't keep his food down. On Tuesday he was diagnosed with kidney failure and all attempts at treatment failed. Today we brought him home from the hospital so we could spend a few more hours with him, and this evening we decided it was time. He was twelve.
There will be one more card for next Christmas and then that will be it.
Love you, pup.
2008 - Frankie's last card: